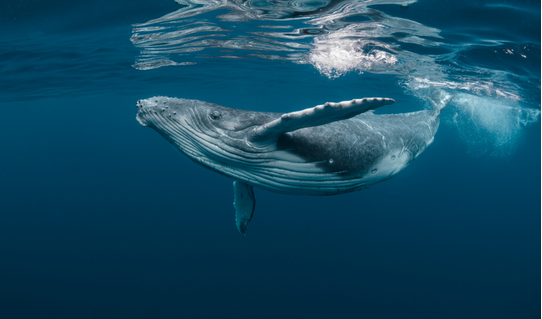 Vineyard : Baleia
Baleia believes that living soils lead to strong roots sprout nurture healthy vines to nurture perfectly ripened fruit. Further, through science and meticulous farming with attention to the details, they can produce grapes that truly reflect the terroir in which they are grown. The Baleia approach to Rose is a true reflection of their intention to make world class wines. Its easy to cut corners in the cellar and rose is the litmus paper to their integrity. Only the finest grapes, meticulously sorted and handled very carefully to ensure a wine is elegant and dainty whilst still portraying the site in which it is grown. Making Sauvignon Blanc one is often faced with the temptation of making something frivolous , upfront and flirty which results in very upfront wines that lack a sense of place. With Baleia, they have chosen to take the road less travelled by choosing texture and minerlaty from the site to portray the beauty of the terroir. As a winemaker, when you are fortunate enough to plant in almost pure limestone soils, with extremely high pH you can only start to dream of the possibilities. The incredible high mineral content in the soils reveals itself after a few years in the bottle provided we respect the fruit and treat the wine carefully. Wines are made in the vineyard and it is our responsibility in the cellar to trust the work that has been done all year and the terroir in which the wines are grown. We respect the fruit and play our hand very lightly in the cellar so as to ensure that the wines reflect a true sense of place.
This is a paragraph. Click here to edit the text. It's easy. Just click here to add your own content and make changes to it. This is a paragraph. Click here to edit the text. It's easy. Just click here to add your own content and make changes to it.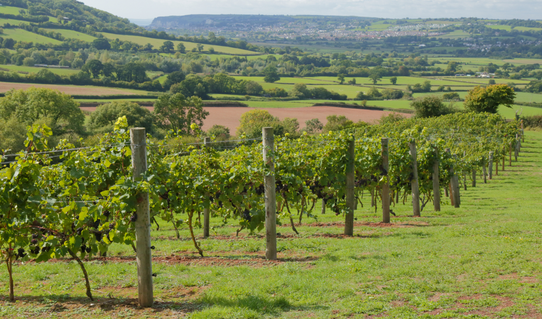 Vineyard : Meinert
This is a paragraph. Click here to edit the text. Just click here to add your own content and make changes to it.
The Meinert family's heritage is of printers and publishers in Namibia and wine making has developed out of a personal passion. Under the watchful eyes of Martin Meinert and Brendan Butler, Meinert Wines make a small and personalised range of wines in limited quantities at the hillside Devon Crest vineyard outside Stellenbosch. Some wines started under their Family Collection project range before joining the ranks of proper Meinert Wines. The Family Collection wines are unique bottlings from small lots made for family, friends, loyal customers and inquisitive wine drinkers. For example, their La Barry Sauvignon Blanc was named after the winemaker's wife Leigh Ann Barry, for whom this wine was made as a wedding gift. The "La Barry" has delicate elderflower fruit with underlying grassier tones, but is unthreatening enough to keep coming back for another glass but also maintains the sense of "drama"! Yet another was introduced many years ago, at a dinner in Zürich by their friends, Peter and Jenny. This was the white Merlot (Merlot bianco) made in Ticino, the Italian-speaking (southern) Canton of Switzerland. Their interpretation of those Chardonnay-style wines resulted in the first vintage, 2008, which was slightly pink, and was refused official White Merlot status and so it became The Italian Job. Now it has the brilliant clarity and brightness as one would expect from a white wine, and the Italian Job is now officially classified as a 'White Merlot' Generally, this vineyard soils are deep and well drained with high clay content, and the low yields define our wines. Vines receive supplementary irrigation Each wine is created with much thought and care to ensure uniqueness and individual character.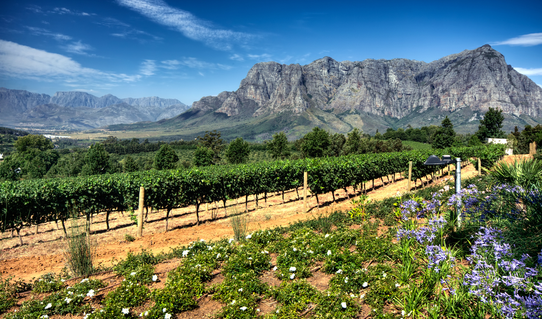 Vineyard : Mitre's Edge
This is a paragraph. Click here to edit the text. Just click here to add your own content and make changes to it.
Family-owned and managed boutique winery, Mitre's Edge, is nestled at the foothills of the Simonsberg Mountain, between Paarl and Stellenbosch. It is in this beautiful setting that winemaker Lola Nicholls, assisted by husband Bernard, focuses on producing relatively smaller quantities of high-quality, award-winning wines. In 1999 Bernard and Lola took over the farm from Lola's father, Martin Hunting, who had farmed there since 1969. Bernard threw caution to the wind and changed his career from mechanical engineer to wine farmer. Lola's passion for Bordeaux wines led to the replanting of the old Cabernet Sauvignon vineyards with newer clones of Cabernet Sauvignon, Cabernet Franc, Malbec, Merlot and Petit Verdot. Shiraz was also planted, and to complement their wine list with white wines, some Chenin Blanc and Viognier vines were also planted. Their viticultural consultant is Danie Kritzinger from Agrimotion, and the vineyards are personally cared for by Bertus de Clerk and his expert team. This skilled attentiveness extends into the cellar, where their wines are hand-crafted by Lola, ensuring that every vintage is memorable and of an impeccable standard.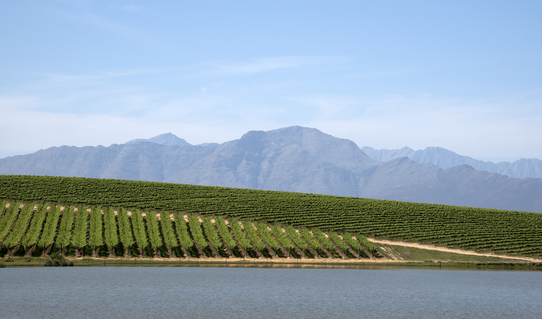 Vineyard : Painted Wolf's Wines
This is a paragraph. Click here to edit the text. Just click here to add your own content and make changes to it.
This Vineyard gets its name from the highly endangered painted wolf (African wild dog). The Painted Wolf Wines supports the conservation of and the protection of the diminishing wild spaces of Africa, through its donations to the EWT. This range of wines comprises small volume, premium wines from exclusive and sustainably-farmed vineyards. They share our small-scale wine making equipment with one of the region's biggest producers, Leeuwenkuil Family Vineyards. Over the past 13 years they have worked in their experimental cellar crafting small batches of wine. This relationship allows Painted Wolf Wines access to some of the best vineyards in Paarl and the Swartland. Some interesting stories abound of their wines. For example, Guillermo' Pinotage is named after their good friend Billy 'Guillermo' Hughes. He was among the first investors in their winemaking and conservation adventure, trading grapes for shares in Painted Wolf. Billy is an uncompromising exponent of organic farming with a keen interest in biodynamics. Since 2013, Kasteelsig vineyard, from which the grapes of this wine has been derived, has been organically certified. Another wine's name is derived from the scientific name for an African wild dog, Lycaon Pictus, and is derived from the Greek word Lycos for a wolf. All the bottle labels are handpainted illustrations of various species of painted wolves found in the region. They are a work of art, as are the wines themselves. Wild dogs and cyclists have much in common: individual prowess, teamwork, energy, camaraderie and a never give-up attitude. Jeremy is an enthusiastic cyclist and has used this passion as an additional way to raise funds for conservation. He has organised rides through some of the remaining pockets of wilderness inhabited by wild dogs as well as sponsoring major cycling events like the Tour de Tuli, which benefits the Children in the Wilderness charity. As such, each wine has an interesting story to tell on its labels!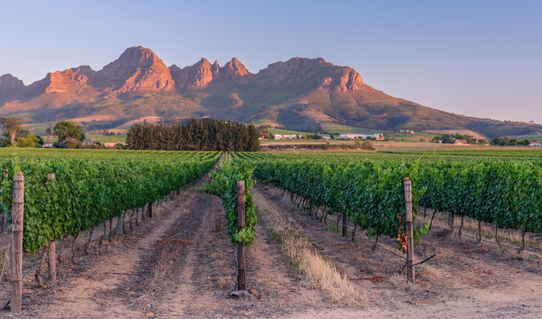 Vineyard : Waterford Estate
This is a paragraph. Click here to edit the text. Just click here to add your own content and make changes to it.
Waterford Estate is situated in the picturesque Blaauwklippen Valley, in the world-renowned Stellenbosch region. We believe in the old adage of 'less is more'. There is nothing pretentious or ostentatious about the estate, rather the visual impact is one of a seamless whole, which complements rather than detracts from the surrounding natural beauty. For this reason they have also chosen to use only half of the total 120 hectares of our land for the planting of vines in order to preserve and protect the natural fauna and flora on the Estate. Waterford Estate is owned by the Ord Family and developed under the watchful eye of Kevin Arnold, Cellar Master and Managing Partner, since 1998. The Waterford Estate winery offers a relaxing setting where guests can sit and enjoy various tasting options. With the wine cellar built surrounding the courtyard, guests can observe the workings of the winery, and get a true feel for the wine making process without disrupting the tranquility of their tasting experience.